By now it's pretty well known—even by people who don't care about baseball, media, or baseball media—that Curt Schilling made a horrible decision to tweet the following: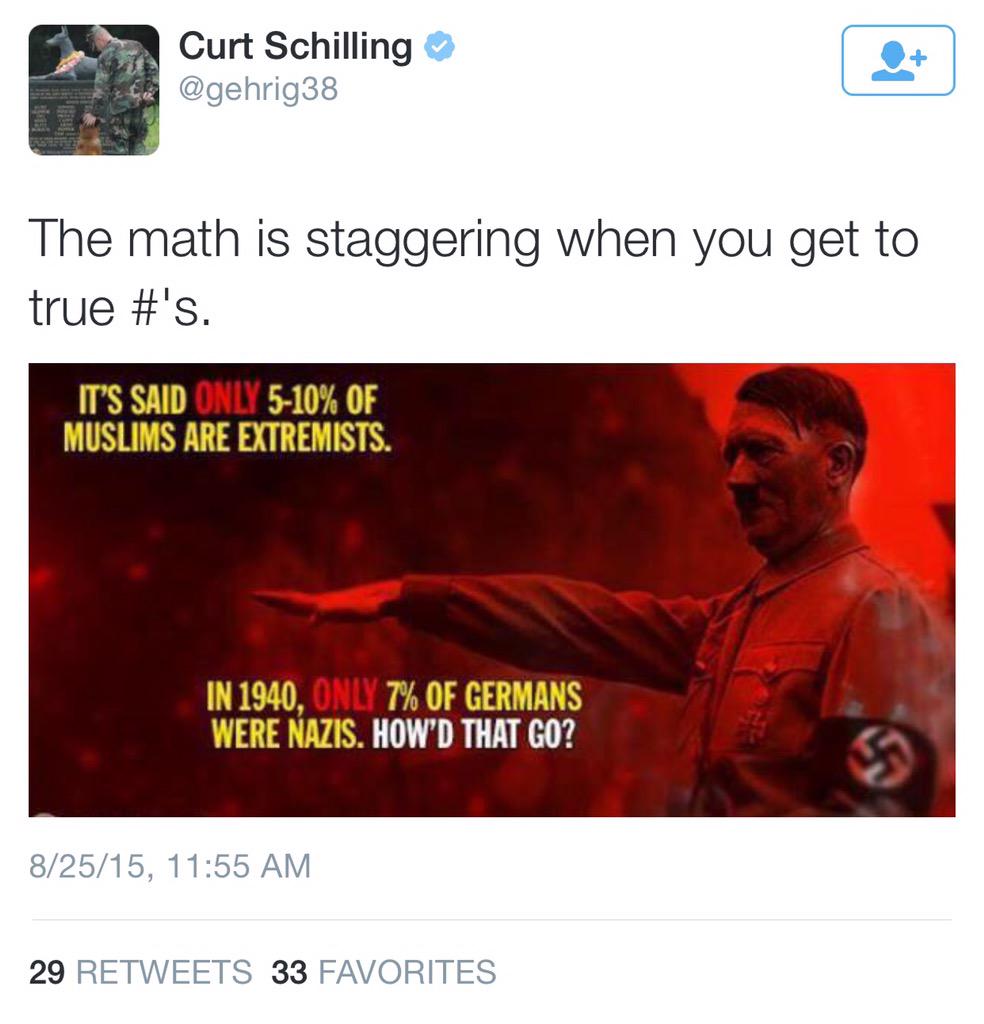 Schilling did not create the meme in question—he "merely" tweeted it out.  I put the word merely in quotes because the gravity of his action is hardly mitigated even by the realization that he merely agrees with the sentiment enough to repeat it publicly, rather than authoring the sentiment himself.
You can't see the tweet live anymore, since Schilling has deleted it from his feed.  Too late to reverse the condemnation he has received, of course, but at least he's not doubling down on the sentiment by maintaining its presence on his feed or, worse, tripling down on it by defending or flaunting it, as some might.
As a result of this loose cannon act, Schilling swiftly lost his job as an analyst on ESPN's Little League World Series baseball telecasts. Swiftly as in same day.
Now comes word that Schilling's punishment by ESPN is extending to his regular gig on their Sunday Night Baseball telecasts as well, as The Worldwide Leader announced late last night that Schilling is being pulled from this week's Cubs-Dodgers tilt.  No word yet on whether the ban will extend beyond this week, but it's hard to envision Schilling returning to the booth any time this year, given how raw the original story is at the moment.  There's a lot of noise surrounding Curt Schilling right now, and if there's one thing megabillion multinational media and entertainment companies despise, its noise of exactly this type.
Curt Schilling is a very smart man, so he had the good sense (and decency) to express a feeling resembling remorse over his bad decision:
I understand and accept my suspension. 100% my fault. Bad choices have bad consequences and this was a bad decision in every way on my part.

— Curt Schilling (@gehrig38) August 25, 2015
This tweet occurred the same day as his LLWS telecast suspension.  It is, at the moment of this post's publication, his most recent tweet, so we do not yet know publicly his reaction to his removal from this Sunday's telecast.
Now, articulating "my bad" for expressing an opinion is not the same as feeling shame for having the opinion in the first place.  Schilling must certainly understand that difference, and while I can't read the man's mind, it strikes me as doubtful that he feels any differently about Muslims (extremist or not) today than he did two days ago. But the bar at hand does not extend as high as prohibiting the most secret thoughts and opinions a man might want hold in his head.  It extends only to expressing them in a public forum.  In America and most of the rest of the First World, you have the freedom to express such thoughts, but that freedom does not extend to exemption from the consequences of expressing them.
Schilling is smart also because, unlike some knuckleheads imploring him to "NEVER apologize for telling the truth especially if the PC bullies don't like it", he understands that when you are the public face of a very high profile organization, the thoughts you express for public consumption, even in your off hours, reflect on the organization you're associated with.  Schilling does not work 24 hours a day seven days a week, but The Walt Disney Company does, so there is no off-hours period of freedom from his public representation of them. Plus, The Mouse as a corporation has accountability to an international and multicultural audience that extends far beyond defending the right of their employees and representatives to publicly express whatever they believe their truths to be, never mind any obligation to maintain their full status in good standing within the corporation afterwards.
Whether this will cost Schilling any chance to work a booth at any point in the future is still unclear.  What is clear is that any sports broadcasting concern interested in maintaining politics-free output will think twice about hiring someone who, intelligent though he may be, has a history of exhibiting poor impulse control and bad judgment when it comes to putting his innermost political thoughts out there for the purpose of the entire world enjoying them.